Data Tree: new course encourages PhD students to turn over a new leaf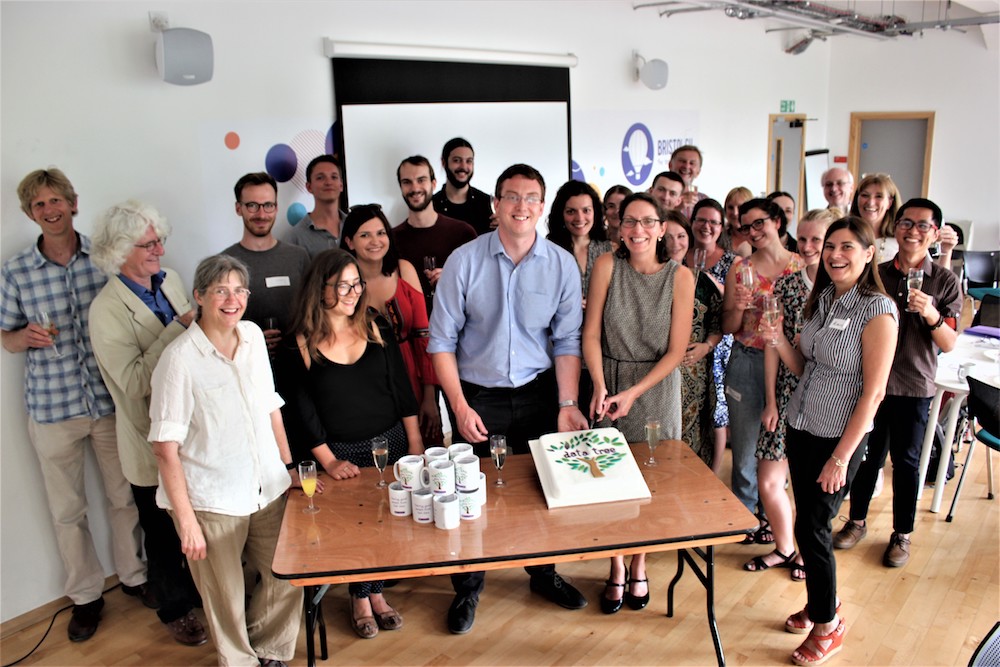 The Institute for Environmental Analytics supports Green GB Week with launch of free online course offering essential data management and research sharing skills
Reading, UK, 15 October 2018: The Institute for Environmental Analytics (IEA) has today officially launched its Data Tree online course to help students gain research data management skills and learn techniques for sharing the outcomes of their research with end users such as business, policymakers and the public.
This free course has been funded by the Natural Environment Research Council (NERC) through the National Productivity Investment Fund, part of the UK's Industrial Strategy, to help PhD students build excellent data management and communication skills that give the results of their research greater long-term value and usability. More than 400 students have signed up already and are well on the way to completing the course.
---
The course was developed and built by a team from the IEA, based at the University of Reading, in conjunction with Reading-based not-for-profit social enterprise Statistics for Sustainable Development (Stats4SD). Reading was the ideal location from which to develop the course as there is such a wealth of local expertise in environmental science and research data management. A large number of University experts contributed their specialist knowledge to the course content, which includes modules on how to communicate research data to influence environmental policymakers and local government.
Data Tree expert contributors from the University of Reading include:
Prof. Nigel Arnell

Dr Jon Blower

Dr Joanna Clark

Dr Debbie Clifford

Dr Robert Darby

Prof. Sir Brian Hoskins

Dr Ben Lloyd-Hughes

Rachel Mayes

Prof. John Methven

Dr Maria Noguer

Sally Stevens

Briony Turner

Frances Young

Cathy Garlick

Jo Ansell

Rebecca Bird-Lima

Professor Keiichi Nakata, Henley Business School
---
Vicky Lucas from the IEA, who led the project, said: "Research data should play a central role in shaping future environmental strategies in business, innovation, policymaking and informing end users, but to do that it needs to be well-managed and effectively shared. In Data Tree we've created a free resource to encourage scientists to share data underpinning their research and communicate the outcomes of the work to a range of audiences.
"It's fitting that we're launching the full course during the Government's first Green GB Week, as the skills learned and research carried out by early career scientists will form the foundation of environmental development and clean growth in the UK for years to come."
Data Tree is designed for environmental science PhD students and early career researchers and offers essential advice on research data management and sharing, data visualisation techniques and tips for communicating research data to end users such as businesses and policy makers. It includes modules on working with data centres such as NERC and how to create research data management plans.
Data Tree is self-paced and can be completed as structured learning or students can dip into it for immediate problem-solving. There are quizzes, video interviews with subject experts and lots of real-world examples of research data in use in many different scenarios.
Ben Williams, Program Manager at NERC, commented: "NERC is excited to have funded the development of an online training resource. It is a more flexible, user-friendly way of learning and we hope that it will prove a valuable tool for students who want to get into good data management habits to support their research. We encourage all our students to take the course as part of their doctoral training programme and think it will be valuable for many early career researchers."
Find out more and register for Data Tree at www.datatree.org.uk
---
About The Institute for Environmental Analytics:
The IEA is a world-leading applied research and development organisation focused on supporting customers who understand the opportunity afforded by environmental data analytics to manage risk, improve business operations and open up new markets. The IEA works with organisations large and small to help them turn data into competitive advantage through visualising existing data sources, analysing past historical trends and developing predictive analytics tools. The IEA also offers tailored training programmes to develop in-house capacity for data analysis. Its projects cover a range of areas where environmental data is a strong driver such as agriculture, infrastructure monitoring, international development and risk management. All are focussed on quickly but effectively trialling new ideas and de risking clients' investment in new products, services or business processes.
Last modified: Tuesday, 16 October 2018, 9:41 AM